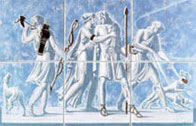 Ceramic tiles have finally come into their own as one of the premier decorating tools for home or office. Fine ceramic tile adds a luxurious, sophisticated, thoroughly entrancing look to any room of the house – a look that allows you to project the ultimate statement in decorating fashion.
Though there is a virtually unlimited amount of ceramic tile to choose from, certainly the acknowledged leader in the. field-indeed, in a class by itself-is imported ceramic tile from Italy, where artisans have been perfecting their craft for centuries. This is the only type of ceramic tile which Pedulla Ceramic Tile features.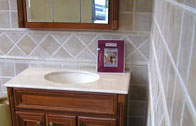 But more than this, at Pedulla's grandiose showroom – taking up half a city block – you'll discover only the very finest examples of Italian ceramic tile, painstakingly hand-picked by Pedulla staff to mirror sheer perfection and exceptional beauty. Just one example of the literally hundreds of styles available is the Pierre Cardin brand, custom-created by Ariana designer line. In fact, there is virtually no limit to the number of styles available at Pedulla, since they offer: custom-designed tiles to, your specific requirements and instructions.
In the Pedulla show-rooms you not only have the opportunity to peruse through rack after rack of design and pattern, but you have the ability to see just how that pattern will look, thanks to a score of bathroom and kitchen complete set-ups, allowing you to note the exact look of the tile, just as it will appear in your house.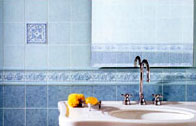 Ceramic tiles can add an unexcelled dimension of beauty to every room in the house-living, dining, kitchen, bedroom, bathroom, the entranceway, corridors and more. Ceramic tiles add a touch of majesty that remains unparalleled, becoming the focal point of the room, complementing any decor in a fabulous way. More than this, ceramic tile is also exceptionally practical, – with clean-up meaning just a wipe of a Mop.
Obtaining the right tile is only half the story. To gain the maximum beauty, versatility and functionality from that tile, it must be expertly installed, and here too Pedulla can help, offering its own in-house installation company, F & D Improvement.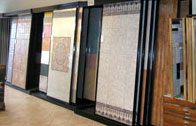 F & D Improvement offers not just installers, but old-world craftsmen who do the job the old-fashioned way, using tar paper on top of plywood, with mesh wire, and nails every six inches. A perfect job, and perfect level floor, is guaranteed.